Dear Fellow Productivity Enthusiast,
If you're struggling to plan, make decisions, and commit to taking ACTION in your business and life — or even if you'd just like to get BETTER at these things, then this short course in tactical thinking is for you.
I've handpicked six of the best special reports and CDs from my monthly subscription program to create this short training program just for you. Together, these six lessons cover the top thinking processes I use in my business and personal life, for maximum success:
Lesson 1: The Art of "More"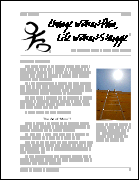 Discover the secret thinking process that naturally successful people use to turn "problems" into "opportunities".
By asking just a few simple questions, you'll automatically begin seeing the glass as "half full" instead of "half empty".
(Best of all, it works in seconds, no matter how pessimistic or gloomy your outlook may be when you start!)
Lesson 2: The Secret of Making Up Your Mind

Have you ever had gone back and forth over a big decision? You go one way, but then there's a problem, so you'd rather go a different way… but then, on the other hand… Back and forth, over and over.
Well, there's a reason we do that: a fundamental flaw built into our brains!
But there's a way to get around it: a systematic process you can use to make a decision quickly and easily.
This CD will show you how, step by simple step.
Lesson 3: Turning Fear Into Commitment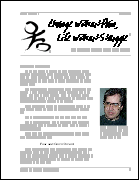 Unfortunately, making a decision and actually carrying it out are two different things!
In this lesson, you'll discover the uncanny reason why some people don't start that diet or quit those cigarettes… and other people DO.
Hint: it's the same reason why successful sales letters and other persuasive pitches are always written in a certain order, and with a certain ratio of content.
And when you know this sequence and ratio, you can use it to persuade yourself to take action, too!
Lesson 4: The Secret of Creating Results

Sometimes, the thing stopping you is that you don't know if you can get what you want, or HOW.
But what if you could proceed forward anyway, the way successful people somehow do?
This CD reveals how to make plans and get RESULTS… even when you don't have any idea whether what you want is possible, let alone how to get it.
Lesson 5: Control Your Perception, Control Your Life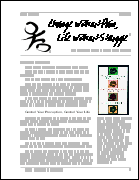 Have you ever known precisely what you needed to do about something, and even gotten started on it, but just couldn't get yourself to stick to it?
Time and time again, did you tell yourself, "This time I'm really going to do it…"
And then didn't?
Sure, you've heard all the self-help and business gurus screaming about how you need to take massive action, now…
But what you probably haven't heard is why those gurus are wrong.
Dead wrong.
This lesson reveals what you need to do first, in order to make your plans "stick". Long before you take any action, let alone "massive" action!
Lesson 6: The Secret of Thinking Things Through

If lessons one through five are like the vehicles in one of those Japanese cartoons, then this lesson is like the giant robot made by assembling them. ("IDOC, assemble!")
Because this CD contains my secret weapon, the Swiss Army Knife of tactical thinking processes.
I call it IDOC, and it's one of the first tools I turn to when I'm stuck between a rock and a hard place, and don't know where to start. It's the tool Bryan Todd called "the single most productive 20 minutes of the entire week, [that sets] the stage for everything…. Without it, [I'd be] sunk."
And this CD will walk you through it, step by step.
Normally, if you bought these lessons from me individually, you'd pay about $297 (or more!), but for a limited time, you can download them for FREE… just for trying The Effortless Way, my monthly self-improvement program.
For just $39 each month, you'll get another Life-Changing Secret™ or Everyday Breakthrough™, in the form of either a newsletter, audio or video training, or a live or recorded workshop… delivered straight to your email inbox (no physical magazines or disks to lose, or gather dust on the shelf!).
And in each month's material, I'll keep you posted on the latest in breakthrough thinking methods, mind hacking, and productivity secrets that can change your business AND transform your life.
It's a heck of a deal, all by itself… but if you act today, I'll throw in the entire Tactical Thinking Program for you to download right now, absolutely FREE.
If you like it, keep it! Your subscription will be automatically renewed each month from then on. Or, if at any time you're not absolutely, 100% thrilled with what you get, just send an email to sales@dirtsimple.org, and I'll cancel your subscription. You'll pay NOTHING more, and you can even keep the Tactical Thinking Program as my gift to you, along with anything else you've downloaded from me up to that point. No hassle, no questions, and nothing to return.
That's how positive I am that this is right for you.
So for instant access, click the button below, and join The Effortless Way. Then, download the PDFs and MP3s for your Tactical Thinking Program lessons… and start making progress, The Effortless Way.
---

PJ Eby
Mind Hacking Instructor
Creator, The Effortless Way